The #1 Marketing Platform® for Lighting Showrooms
Powered by Marketing 360®️ a Madwire® Brand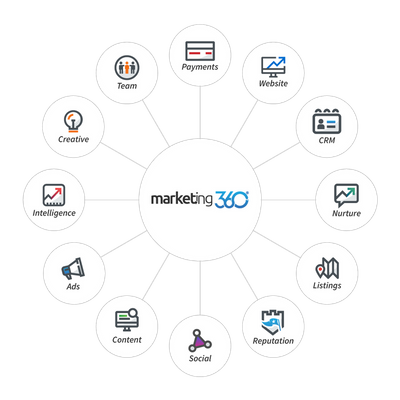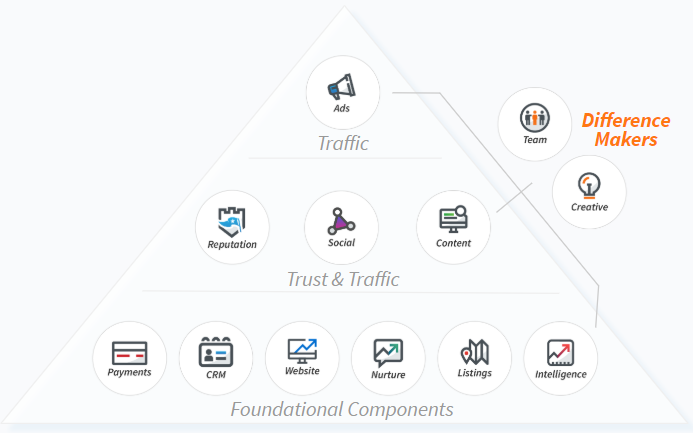 Welcome To Marketing 360®
#1 Marketing Platform® for Lighting Showrooms
Marketing 360® is the best marketing and website platform for driving lighting showroom sales. With plans to fit any size budget or marketing area, Marketing 360® can be used by showroom internal teams to manage every aspect of their digital marketing or they can add talented experts to their team and have everything done for them.
As a lighting store owner, you'll work with a dedicated Marketing Executive who is a certified digital marketer. You'll be able to generate more new sales with the software and services built within the Marketing 360® platform.
The Marketing 360® platform is an intelligent combination of digital marketing software and dedicated marketing services. It's extremely affordable, powerful and full-service. There's simply nothing else like it.
It's everything you need to generate traffic to your showroom and grow your brand!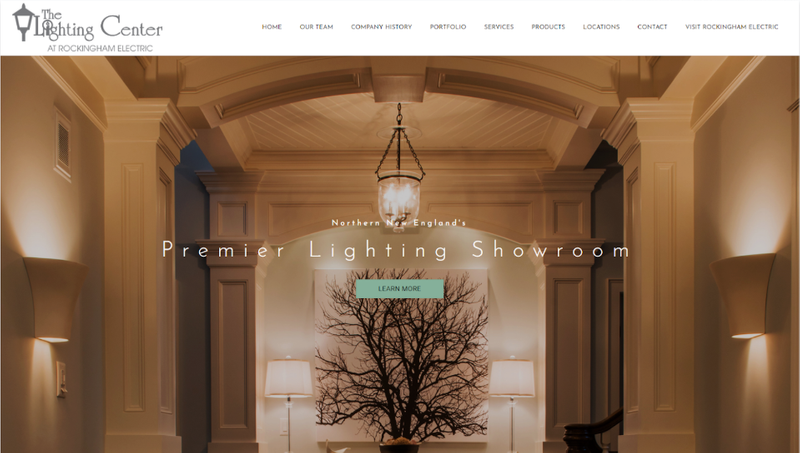 World‐Class Website Designs
Designs Specifically Created To Generate Leads and Get Customers in Your Store.
Leverage world-class designers for all your lighting showroom's design needs, which often go beyond digital. The design work is second to none.
No more of this "you set up the website yourself" business! Work with an experienced project manager to get your new lighting website live quickly. Each project manager works with a team of experienced graphic designers to ensure you get the best website design for capturing sales and enticing customers to visit your showroom. Then, once the website is live, your design is continually maintained and improved over time by your dedicated Marketing Executive to maximize your lead flow and to bring more people into your store.
Your lighting. Your content. Your design. Your dream site.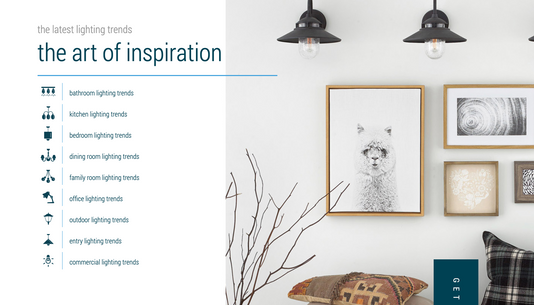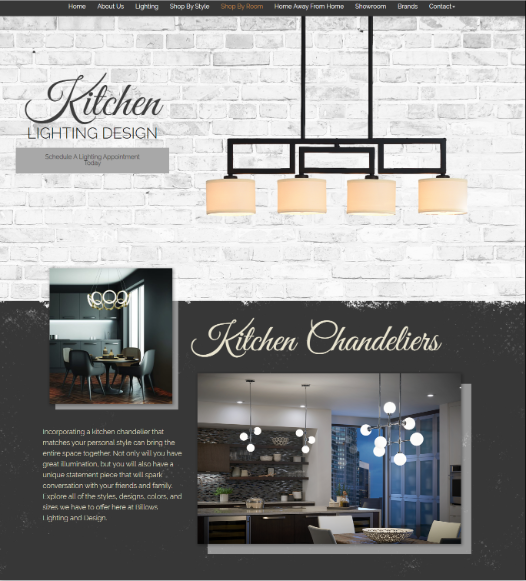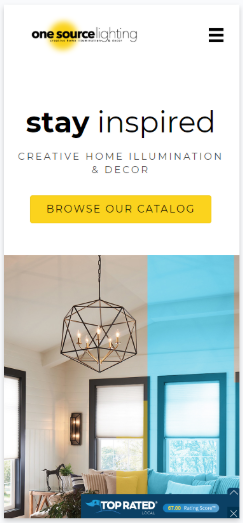 Proprietary Lighting Catalog
Match Your Website Experience to Your Showroom Experience.
Using XO Logic data, the power of BigCommerce and Marketing 360's world-class designers, we offer lighting showrooms a powerful e-commerce enabled catalog designed to increase sales both in‐store and online. This new powerhouse provides cleaner data using the MadScrubber, which eliminates errors such as missing pictures, descriptions, and prices. This saves you a tremendous amount of time and gives your customer a better shopping experience.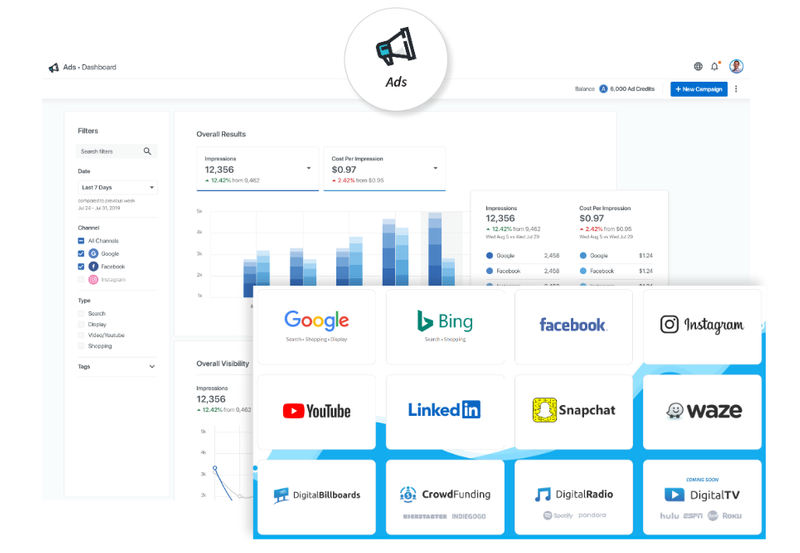 Multi‐Channel Advertising
Multi‐Channel Advertising
It is crucial that your Lighting Showroom Brand is present everywhere digitally in your local market. You want all of your customers to think about your showroom first when they think about lighting products. It is important to recognize that the more channels your showroom is on, the greater the visibility is for your showroom, which in turn can lead to more marketing data, more site traffic, and hopefully more conversions. The first steps with Multi-Channel Advertising are: to determine your budget, your campaign length, and the channels that you think you'll see the most success in, all with the help of your Marketing 360® Marketing Executive. Throughout your campaign, you and your Marketing Executive will track the success of the Multi-Channel Marketing approach by looking at how the efforts have collectively produced:
An increase in traffic (site visitors).
An increase in brand recognition.
If the campaign has produced any conversions (sales or form submissions).
If there was a drop in the cost per acquisition.
If you have noticed an increase in your social presence and engagement.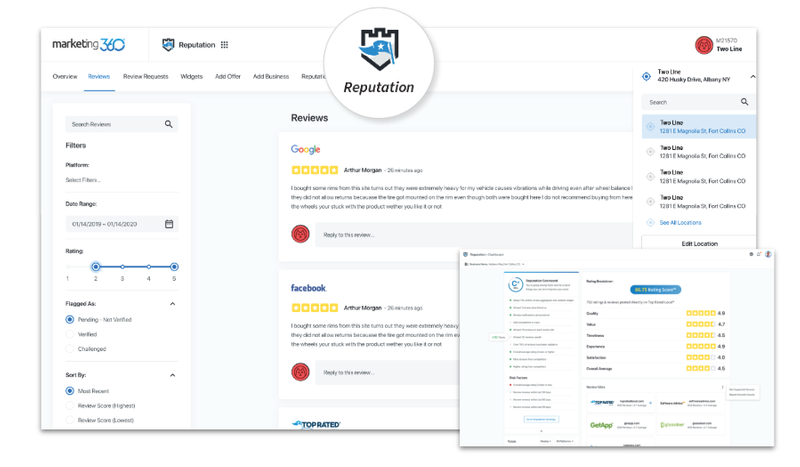 Build Trust & Protect Your Brand with Top Rated Local®
Control and build your reputation online.
Only verified customers can rate your business on Top Rated Local®. If a customer rates you poorly, you have up to 30 days to resolve their concerns and ask the customer to submit a new rating. Also, all comments are kept private unless you choose to make them publicly visible.
Increase conversions with the Top Rated Local® badge & widget.
Our Top Rated Local® trust badge and widget is installed on your site to ensure your new visitors see just how credible your showroom is. This helps increase the conversion rate of your website and generate more new sales. It builds trust because it aggregates ratings from all top review sources online, while also allowing for ratings to be submitted through our verified platform.
Gain sales by building trust.
Maintain full control over your listings, content, and online presence. Leverage highly convertible licensed ad copy to increase your store's recognition and exposure across Google, Yahoo!, and Bing. Plus, use the Top Rated Local trust badge on your website to help convert more of your online traffic into sales in the showroom. You can protect your brand from acts of blackmail, libel comments, and slander by utilizing the integrated customer service dashboard, where you can manage, approve or disapprove customer comments at any time.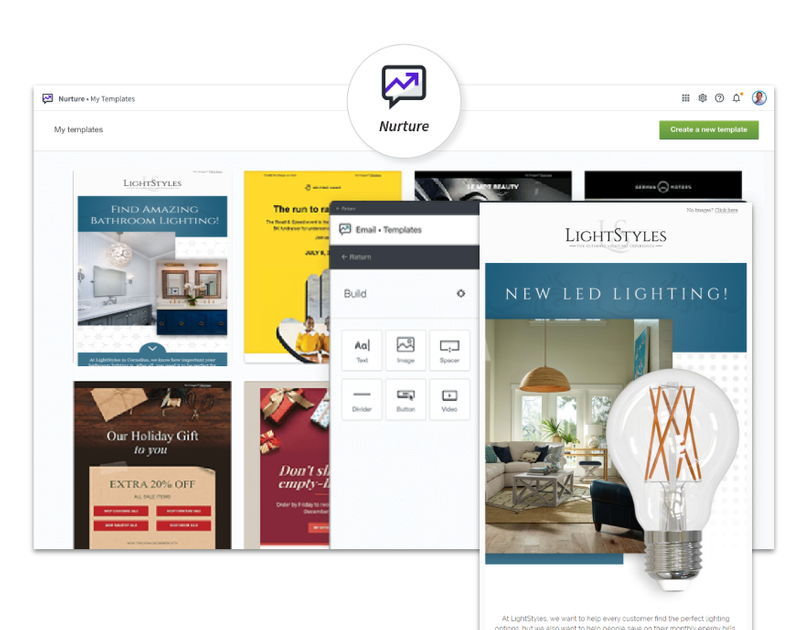 Lead Nurturing Made Easy with Automation
Email and SMS (text message) marketing gives us an easy way to stay top of mind with our clients. We can promote a new product, ask for a review or share an opportunity for savings.
The email feature in Marketing 360 is extremely easy to use. The user-friendly interface makes designing emails and creating automated journeys a breeze. Choose from a library of amazing email template designs, create your own, or look at the library of content specifically for Lighting One members. Still not enough time to manage your email marketing? No problem, just ask your dedicated Marketing Executive to help you.
Studies show that email marketing automation, when done right, generates a 30 to 1 return on investment. Email marketing is essential for any showroom owner who wants to see their business grow.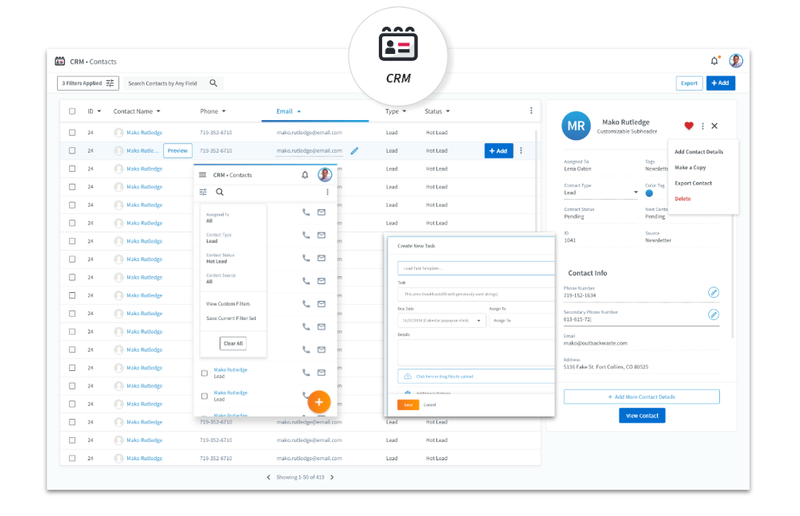 CRM Customized for Your Showroom
It's time your showroom used the power of a CRM software.
A CRM, which stands for customer relationship management tool, is a software that organizes your clients and leads, as well as the tasks, data, and record-keeping associated with them. If you've ever lost a lead because someone threw away their gum by using the sticky note with the customer's contact info, or been embarrassed when a salesperson called a lead someone else had already closed… or if you spend weekends trying to organize your contacts… then you know why you need a CRM.
Your Client Data is Powerful!
This data can help us stay in touch with past customers with automated email marketing and can be used to target new customers that have similar demographics to one's that already purchased. When used in tandem with email automation we can set lead nurturing on autopilot!
A CRM is a key element in not losing opportunities that your website and marketing generates. Staying organized and remember the details to close more leads and build better relationships.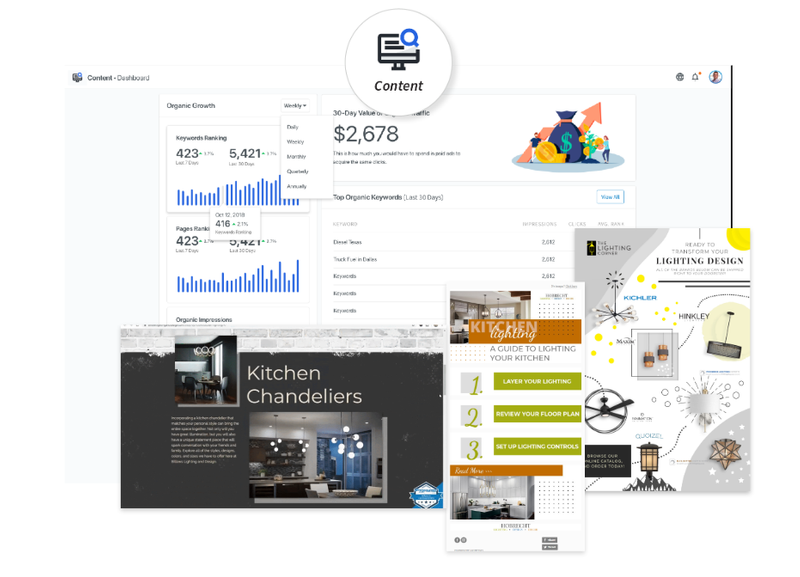 Content Marketing & Search Engine Optimization
A dedicated SEO & content marketing expert does everything for you. They optimize your website, write blogs, create videos and more on an ongoing basis to help you outrank your competitors online. Track all the work and the results from Marketing 360 at any time with 100% transparency.
Get a bird's eye view of how your website is ranking organically across major search engines like Google & Bing. Also quickly see how many keywords and pages are ranking overall. Plus, see how much SEO & content marketing work has been completed thus far by your dedicated SEO expert!
The content marketing program has a powerful keyword ranking tracker. It tracks unlimited keyword rankings and the history of ranking changes over time. Your Marketing Executive & dedicated SEO expert use this data to ensure that you're not only ranking high for your best keywords, but that they're actually driving you more leads & sales!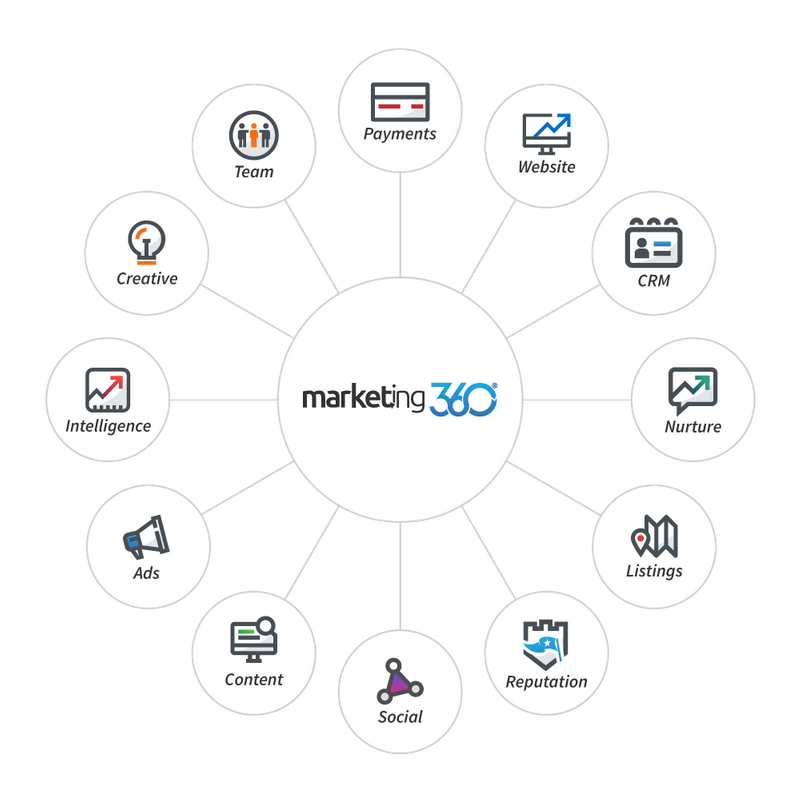 Other Showroom Favorites
SMS Marketing - Send texts to your customers with the easy‐to‐use SMS Marketing 360® program. This interface is built into your Marketing 360 dashboard and makes creating text messages and automated journeys a breeze. Not enough time to manage your text message marketing? No problem, just ask your dedicated Marketing Executive to help you.
Conversion Inbox - Easily track all your conversions (leads & sales) from the Conversion Inbox. View details such as a contact name, phone, email, what channel the conversion came from, phone call details & recordings, and more. Leave notes and rate conversions so your Marketing Executive can make your marketing better over time!
Professional Video and Photography – Our team of highly skilled video experts can create high-quality videos for any purpose. If you want to highlight a certain style of lighting or focus on room design, videos can showcase your showroom's work in an eye-catching way.
Meet the Madwire Lighting-One Team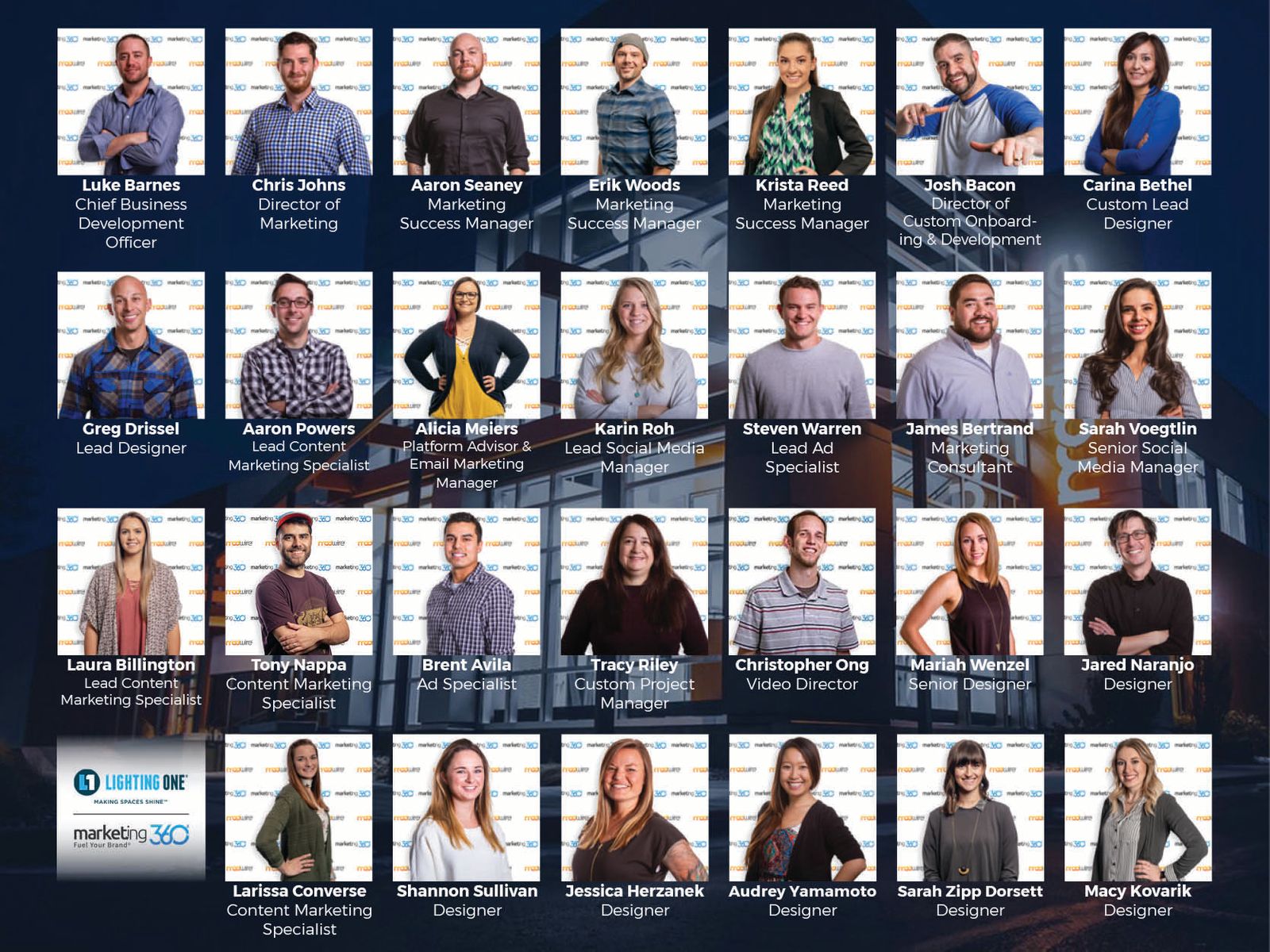 Over 2,500 Positive Online Reviews
We have over 2,500 online reviews posted across popular review sites such as Capterra, Software Advice, BBB & more for an average rating of 4.9 stars! - See Reviews
We're Affordable
If your budget is small, don't worry. We can work with almost any size budget and will help formulate a plan that makes the best use of the budget you have.
Recommended by Google
We are a long-standing Premier Google Partner & highly recommended by Google. Watch this video to hear what Google has to say about us! - Watch Video
Loved by Facebook
We're an official Facebook Marketing Partner! Watch this video from Facebook recommending us as one of the best small business marketing solutions. - Watch Video
Family Owned Company
We are a family-owned company that was founded by a father & son and have been recognized as Colorado's Top 50 Family Owned Company five years in a row.
We Love Small Business
Our mission is to help small businesses grow. Everything we do is with that mission in mind. Checkout our Tribute to Entrepreneurs videos! - Watch Video
#1 Best Place to Work
We believe happy people make happy customers. We're extremely grateful to make Glassdoor's #1 Best Place to Work list three years in a row.
We Don't Outsource Anything
We believe we can offer the highest quality, fastest turnaround, most affordable pricing and best customer experience by doing everything in-house. So we do.
We're Always Innovating
Marketing is always changing and always evolving, so we're constantly rolling out new products, features, marketing channels & more to help you grow your business.
Award Winning Company
We've humbly won countless awards and accolades recognizing us as a clear leader in the small business marketing space.

Contact Us Today!
Interested in moving forward with the Lighting One Digital Marketing Program at Marketing 360? Please fill out the form below and we'll get back to you as soon as possible to get started!